Buying Guide & Tips for Customizing: How to customize backpacks, totes, handbags , storage cases and other bags
Whether you're shopping, going to the beach or on holiday. Everybody needs a good bag from time to time. That's why you can't go wrong with customized bags!
Whether it's a backpack for back to school, a stylish tote bag for the wedding, or a new suitcase for the upcoming vacation, there's something special about bags. Are you ready to get started? Here are all of the tips and tricks of custom handbag that you will need to know.
Why do you need custom bags?

It is likely that you do not buy custom bags on a whim. Most of the time, there's a specific event or need that you have for your order. It could be for any of the following types of events
Favors for a bridal party
Goodie Bags
Giveaways for schools
Gyms
Stores & Businesses
Travel Industry
Professional sports leagues
Fundraisers
Exhibitions
Summer Camps
Favors for a bridal party
As a thank you for being a part of your big day, all the guys and gals in your bridal party deserve something nice. A reusable tote bag in the colors of your wedding will make a thoughtful gift.
Goodie Bags
Throwing a baby shower or birthday party? Maybe your company is having a big celebration like a holiday party or awards ceremony. Whatever the case, custom goodie bags make great end-of-event giveaways!
Giveaways for schools
Notebooks, pens, rulers, binders, textbooks... there are a lot of supplies to carry around. That's where custom school bags come in handy! For elementary school book fairs, high school pep rallies, or college orientation days, they make great giveaways.
Gyms
Looking for something to give to new members at your gym? A sports bag is the perfect choice! Your clients can use it to carry their water bottles and towels every time they come in for a workout.
Stores & Businesses
A reusable tote bag helps reduce the damage done to the planet by plastic bags. Print your store's name on stylish bags that your customers will love to carry around on the weekends while running errands!
Travel Industry
It's time to take that dream vacation! Your customers will want spacious suitcases or travel bags for all their essentials. Clip on a bright luggage tag for an extra special touch!
Professional sports leagues
Whether it's baseball gloves, basketballs, knee pads, or helmets, an athlete has a lot of equipment to bring to practices and games. Large bags are a great way for players and coaches to get ready for the season.
Fundraisers
People attending a fundraiser need to have their hands free so they can participate in the activities and maybe even shop. Hand out customized bags at the door!
Exhibitions
Swag, swag, and more swag. That's what shows are all about! A tote bag for all attendees is a must. Just don't overfill it! You want attendees to have plenty of room to grab everything they want from the booths and displays.
Summer Camps
The tents are up, the marshmallows are roasting, and it's time for a fun-filled adventure at your camp! Make it happen! Build a strong community right away by giving all the kids matching bags that they can use all summer long.
Of course, these are not the only reasons you might have a need for custom bags. They're also a great giveaway for community events such as fairs and festivals, 5K runs and marathons, and as a souvenir at places such as theme parks, museums, and resorts. There is no limit to what you can do!
Tips on how to customize your bags
Now for the fun part - adding your design! You want a bag that looks good and is loved by everyone who receives it.
To make that happen, follow these tips:
1. Choose the type of bag that is right for you.
2. Decide on the look you want.
3. Use a comfortable material.
4. Select the right color scheme.
5. Think about what other items you want to carry.
Choose the type of bag that is right for you.
Once you've figured out why you need bags, the next step is to decide which style is best for you.
You can customize all of the following types of bags:
Backpacks
Drawstring bags
Lunch Bags
Tote bags
Messenger Bags
Shoe Bags
Toiletry Bags
Plastic Bags
Duffel Bags
Suitcases
Backpacks
It's no surprise that backpacks are great for schools and colleges. They can be sold in the bookstore or given away during orientation. Any outdoorsy company would also benefit from a stylish backpack!
Drawstring Bags
A drawstring bag is a lighter version of a backpack. They're great for kid-friendly sports leagues, campgrounds, theme parks, and community events.
Lunch Bags
Mmm, it's lunchtime! Everyone loves a delicious meal, so everyone will love a good lunch bag. Especially for weight-loss programs and company picnics, they make great gifts!
Tote Bags
Are you the owner of a grocery store? You should have reusable tote bags for all those who come in to shop! Each time they are carried, they are a great way to showcase your store's name and logo.
Messenger Bags
A handy messenger bag has room for everything you need to carry. Most of these bags have extra pockets for pens, binders, and your cell phone, so they're a great gift for those with long commutes or frequent travelers.
Shoe Bags
Shoe bags are a great choice if you have a golf outing planned, run a bowling league, or teach a yoga class! There's a designated place in the bag for sneakers or cleats, making them easier to carry and less likely to dirty everything else.
Toiletry Bags
Are you in the beauty industry? You can't go wrong with stylish toiletry bags! Consider giving them away as part of a promotion. For example, if someone spends $50 on makeup, they can get a trendy toiletry bag free!
Plastic Bags
Plastic bags are great for bookstores, gift shops, and boutiques. You can get a bunch of these bags in bulk without spending an outrageous amount of your hard-earned money!
Duffel Bags
Dancers carry duffel bags to the studio, athletes take them to away games, and travelers like to use them instead of bulky suitcases for short trips. These versatile bags make great gifts or giveaways for anyone!
Suitcases
A hotel, travel agency, or airline can't go wrong promoting their services with custom luggage. This type of bag usually has a higher price tag, but is a great item to sell or offer as a grand prize in a contest.
Decide on the look you want.
Now it's time to decide on the right look for your bags. In most cases, a bridesmaid will want something more stylish than a grocery shopper. An athlete will want something a little more athletic than a beauty supply store shopper. You get the idea.
Let each of these styles inspire you!
Cinch Up Backpacks
Non Woven Tote
Budget Cooler bag
Sling Bag
Trendy
Iridescent Non-Woven Shopper Tote Bags
Linen Drawstring Bag
Leather Backpack
Denim Bag
Quirky
Poptart Pouch
Animal Bag
Picnic Basket Lunch Bag
Coloring Tote Bag
Some bags are plain and simple, while others have a trendy touch or a quirky look. You have a wide variety of options, so take some time to find the style that catches your eye!
Use a comfortable material
Canvas
Canvas is often thought of as a good outdoor fabric, which is why it's used to make patio furniture and curtains. This also makes it an excellent material for bags because it's durable, sturdy, and can withstand a little rain or cold weather.

Cotton
Soft, fluffy cotton is one of the most common materials for bags. It's grown and harvested naturally, which is better for the planet in the long run. Plus, it's insanely comfortable and won't weigh down your back or shoulders!

Jute
If you want a natural look, you can't go wrong with jute! After cotton, it's the second most used plant fiber on the planet. It's natural and highly breathable, making it comfortable to wear all day long!

Leather Bags
Want a classy looking handbag? Faux or genuine leather is the way to go! You'll get that stylish, high-end look without having to worry about your bag ripping or tearing after repeated use.

ABOUT PVC
Flexibility is the name of the game when it comes to PVC bags. There's plenty of room inside for everything you need, whether it's books, clothes, office supplies, or other odds and ends.

Microfiber
Some people swear that microfiber feels like velvet! It's a soft yet durable material that holds its color well. Choose microfiber if you want your bags to stay vibrant even when they're exposed to the sun.

About Polyester
Polyester is highly customizable, which means it can meet different size and strength requirements. It usually contains some sort of cotton blend that makes it more durable, but it's also a tough, lightweight material on its own.

Polypropylene
Attention mess makers - polypropylene is the fabric for you! This tough material doesn't stain or absorb moisture. You also don't have to worry about destroying these bags, which is great if you spend a lot of time in rugged terrain.

Denim
You wear denim on your jeans, but what about on your bags? A bright blue denim creates a classic, timeless look that is also incredibly durable. It's no surprise that denim is another fabric made from cotton.

Style should never be at the expense of substance! It's important that you customize bags that are built for performance and will last for years. You can't go wrong with any of the fabrics listed above.
Select the right color scheme
Here's the secret to ordering custom bags in bulk: Stick to one color. You'll usually be charged extra for each additional color you use in your design, so it's better to keep it simple.
Try one of these color combinations!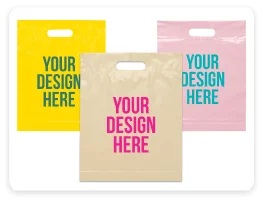 Bright Bag & Dark Ink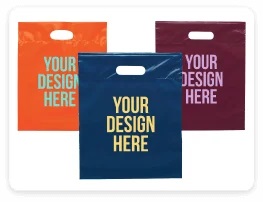 Dark Bag & Light Ink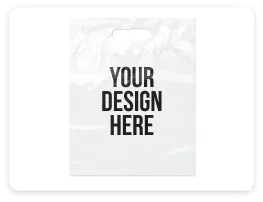 White Bag & Dark Ink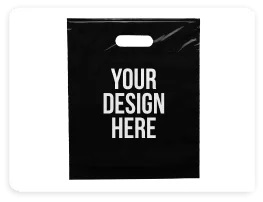 Black Bag & White Ink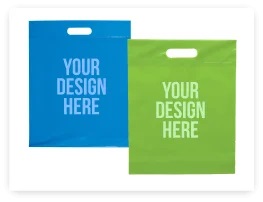 Monochrome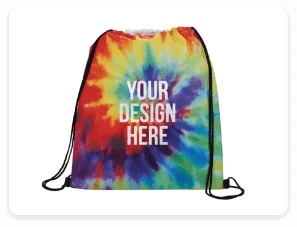 You don't have to use a bunch of colors in your printed design to create an eye-catching look. Bags come in every color of the rainbow. In fact, there are even rainbow options! Get your pop of color from the bag without spending extra money on colorful inks.
Now, let's say you really need a colorful design, whether it's because you have a super colorful logo or you just have a particular vision in mind. If that's the case, try to find bags that use full-color printing. All ink colors are included in the price, so you don't have to settle for just one.
Think about what other items you want to carry
Office Supplies
Bundle small office supplies like pens and sticky notes.
Clothing
Stick to lightweight items like hats, windproof jackets or T-shirts.
Drinkware
Store a water bottle or tumbler in a mesh side pocket designed specifically for drinkware.
Sunglasses
Pick a trendy pair with frames that match the color of your bags.
Kitchenware
Pair your kitchenware with snacks like bags of chips, trail mix, or everyone's favorite, chocolate!
Toys & Games
Plush stuffed animals, fidget spinners and yo-yos are all lightweight extras to toss in your bags for kid-friendly events.
Wellness items
Make sure the cap is tight on spillable items like hand sanitizers, lotions, and soaps.
Home Decor
Everyone has different tastes, so stick with universal items that always go over well, like miniature plants or soft blankets.
Mobile Accessories
You can't go wrong with trendy items like PopSockets or useful items like portable chargers.
How do you customize a bag?
If you've ever been given a bag that's kind of plain and boring, you can spruce it up right at home with a few good crafting supplies! No screen printing company needed.If you've ever been given a bag that's kind of plain and boring, you can spruce it up right at home with a few good crafting supplies! No screen printing company needed.
Just use any of the following to make your own personalized bags:
Fabric Markers
You can decorate plain canvas or cotton bags with fabric markers. Grab stencils if you want to create specific images, or do it freehand if you're a good artist!
Gems & Stickers
Most craft stores have aisles and aisles of stick-on gems, flowers, and letters. You can pick up a bunch of supplies for less than $10 and make your bags look brand new!
Decals
Get your iron ready and carefully apply decals and badges to your bags. This is an easy way to add flair and is also a great way to create an edgy look.
Pins or Keychains
Add some keychains to the handles or pins to the front of your bags. You can mix and match as many as you want to show off your favorite movies or latest vacation spots!
The DIY ideas presented here are especially great if you want to breathe new life into old bags. You're sure to get a lot of compliments and a chance to get your creative juices flowing!
The Bottom Line
Your bags can go from zero to hero with a cool look and some ink! Bags can be little billboards for your company. They can be great gifts for your parties and events. Get started with your design!
Contact Us
Contact: LyuFang
Phone: 0086-15323821527
Tel: 0086-15323821527
Add: Floor 3, No. 1, No. 7, Lane 3, European Industrial Park,Nanhang Avenue, Shiling Town, Huadu District, Guangzhou city, Guangdong Province, China