Frequently Asked Questions about women's work bags
What are work bags?
A work bag is a bag that can carry your work necessities — including a laptop —to your place of work.
What are tote bags used for?
A tote bag is often used as an effortless carryall, from workdays to weekends.
What is the difference between a tote and a satchel bag?
A tote bag is typically a large, rectangular or square bag with long straps that can easily be slung over the shoulder. Satchels are generally mid- to large-size with a flat bottom and two short handles on top.
What is the ideal size of a work bag?
The size of a work bag varies, depending on what you want to carry. We recommend picking a work bag that can fit at the very least, your laptop. Look at the dimensions before purchasing.
How durable is a work bag?
The durability of the work bag depends on the material it was made of and your daily use.
Can I use a work bag for school?
Of course, work bags are also great for schools, travelling and plenty of other occasions.
The different types of work bags for women
Laptop Bag
As the name suggests, the primary purpose of a laptop bag is to carry a laptop and its accessories such as chargers and cables.
Briefcase
The quintessential classic work bag. A briefcase is a formal, narrow box-shaped bag and equipped with a handle. A briefcase is a work bag used by professionals, especially for carrying business documents.
Tote Bag
A tote bag is typically a carryall bag that comes with double top handles. It ranges from canvas to premium versions. Tote bags are usually light, spacious and most commonly unfastened (though some modern versions now include zippers).
Satchel Bag
Satchels range in size, but a satchel bag is usually a structured bag with a rigid feel structure with a flat bottom and two short handles on top. No matter how much you put inside it, a Satchel bag maintains its beautiful shape, making this structured work bag suitable for women who are in more formal professions.
Backpack
If comfort is key and you'd rather carry everything on your back, backpacks make for great work bags.
What to look for in a women's work bag?
Size matters for women's work bags
Before you buy a work bag, consider what you'd need it for. Do you bring your whole office with you every day?
If you carry a laptop to work, prefer a work bag with a dedicated compartment that is sturdy enough to endure the weight and keep your device protected. Know the laptop size you want to fit in the bag.
Bonus: The best work bags for women have room for an extra pair of comfy shoes, too.
Pick your work bag in a neutral colour and timeless design
A work bag should stand the test of time. Pick your bag in a neutral shade like black, tan, or brown, to effortlessly complement your workwear.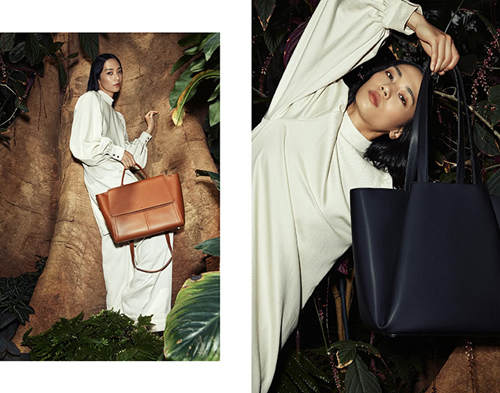 Invest in a work bag made of durable material
The material of a bag plays an important role in determining the quality of the work bag. Invest in a work bag that will stand the test of time.

Good news for the conscious people out there. Increasingly, animal-free leather alternatives that don't forfeit style are emerging.

Consider security features
It is surprising how many work bags don't have zippers. We personally prefer work bags that come with a theft-proof top zipper. Besides keeping everything safe inside during busy rush hour commutes, it tells people that you care about organisation.

Think about your work bag's function
Ask yourself what you need to carry in your work bag and find a bag that accommodates that list. Some work bags have no compartments at all while others have plenty.

If you carry a lot of items, look for a work bag that contains enough inside pockets. If you don't, a simple exterior or interior pocket to store small essentials may suffice. Again, consider your work style and day to day needs to decide on the organisational features you require. For example, if you never find anything in your bag (guilty, here), you should opt for a more structured work bag that organises all your necessities rather than a tote where all your tagalongs are swimming around in one large compartment.
Welcome to contact us. Contact Email: info@iwbags.com
Customized your bags now and how to produce custom bags: CUSTOM BAG OPTION
Factory video reference on YouTube

:
Contact Us
Contact: LyuFang
Phone: 0086-15323821527
Tel: 0086-15323821527
Add: Floor 3, No. 1, No. 7, Lane 3, European Industrial Park,Nanhang Avenue, Shiling Town, Huadu District, Guangzhou city, Guangdong Province, China